Home >> Our Services >> Septic Tank Emptying
Septic Tank Emptying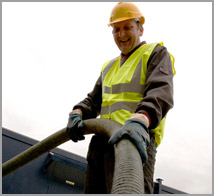 Septic tanks are underground systems used for the safe collection and separation of waste solids and liquids from homes and businesses, usually in more remote sites away from main roads and well established sewer systems.
Wastewater is held within the septic tank for 24 - 48 hours during which time solid waste (including fats, grease and various other solids) are separated from the water. Bacterial action breaks down some of these solids but not to such an extent as to remove them completely.
Many properties nowadays, both residential and commercial, rely on septic tanks for the storage of effluent and water from drainage systems. The reliability and safety of these systems is very much dependent upon effective and timely septic tank emptying.
Septic Tank Emptying Services From Alternative Cleansing
At Alternative Cleansing we recommend that your septic tank be emptied at least once a year.
By ensuring that your system is effectively cleaned this frequently you will be greatly reducing the chance of any 'backing-up' which can lead to contaminated wastewater finding its way into the septic tank soakaway.
For properties with smaller tanks or with a greater number of residents you may need to consider a more frequent septic tank emptying regime.
For advice on septic tank problems and details of our septic tank emptying services why not contact us today? Click here to email us or telephone 01922 409 137.